Crowdsourced Book Suggestions
want to contribute? join my newsletter!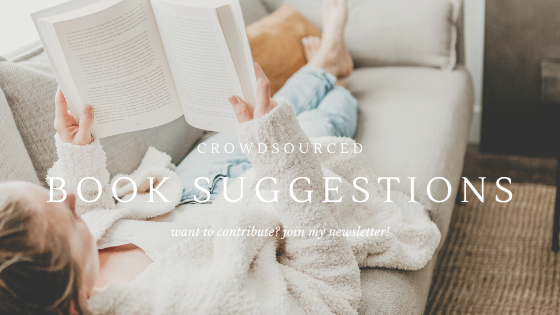 Looking for a good read from people you can trust? The fantastic people on my newsletter list are dedicated readers, and they send me lots of suggestions for quality reads. I wanted to share them here on my website so that they are readily accessible whenever you are struggling to find something good! There is so much available, especially via ebook, that it's hard to know if something is going to be worth our time. And even making allowances for personal taste, even if you don't care for a certain book/author/genre, none of these will be bad books, for sure. Because they're offered up with love and enthusiasm by people just like you and me.
Forgive me if the below table is a mess, because I'm experimenting with different ways to organize the suggestions. Also, there may be affiliate links in here, where there are purchase options. Don't worry, the affiliate links don't cost you anything; they earn me a few cents from the store if you make a purchase, and they help me to learn which stores you get your books from. Please try your local library app, also! With older books you may be able to get copies more quickly than with newer releases.
Note that you can search in the search box for genres, authors, etc. Also, you can filter the order of the entries with the up and down arrows next to the column titles.
Subscribe to my newsletter if you want to join in the fun! (it's the blue link at the top of the page!)
| Genre | Author | Particular recommendations | Author website if available, otherwise Amazon or Goodreads page | Sample Book Cover |
| --- | --- | --- | --- | --- |
| Romantic Thrillers | Tamsen Shultz | The Windsor Series | https://www.tamsenschultz.com/ | |
| Historical Romance | Stephanie Laurens | | | |
| Erotica | Serena Akeroyd | | | |
| Romance | Martha Chasey | Spain, Again | | |
| Contemporary | Madison Faye | | | |
| Romance | Louis L'Amour | Westerns | | |
| Historical Romance | Linda Ford | Westerns | | |
| Cozies, Romance, Historical Romance, Mystery, Cowboy, Paranormal, and more! | Leighann Dobbs | Deceiving the Duke (historical mystery) | | |
| Sweet Historical | Kit Morgan | | | |
| Historical Romance | Glynnis Campbell | Medieval, Scottish | | |
| Sweet Historical, Fantasy | Debra Holland | | | |
| Historical, Contemporary Romance | Darcy Burke | | | |
| Thriller | Dan Alatorre | The Gamma Sequence medical thrillers | | |
| Sci-Fi, Paranormal, Erotic | Cynthia Sax | | | |
| Scottish, Regency Romance | Collette Cameron | | | |
| Cowboy Romance | Cheryl Wright | | | |
| Contemporary Multicultural Romance | Brenda Jackson | | | |
| Sweet Western Romance | Amelia C Adams | | | |
| Historical, Contemporary | Lisa Kleypas | | | |
| Suspense | Linda Howard | | | |
| Romance | Vi Keeland | | | |
| Paranormal Romance | Amanda Milo | | | |
| Romantic Suspense | Rebel Farris | | | |
| Gothic Historical Romance | Madeleine Brent | | | |
| Regency Romance | Georgette Heyer | | | |
| Regency Romance | Fiona Hill | | | |
| Regency Romance, Georgian Romance | Patricia Veryan | | | |
| Regency Romance | Meg Alexander | | | |
| Historical Romance | Mary Nichols | | | |
| Historical Romance, Scottish, Time Travel, Suspense, Western, YA Paranormal | L.L. Muir | Scarlet Plumiere series | | |
| Regency Romance | Bree Wolf | | | |
| Regency Romance | May Burnett | | | |
| Regency Romance, Paranormal, Chick Lit | Lynn Massina | | | |
| Regency Romance | Alicia Cameron | | | |
| Non-Fiction | Ryan Holiday | The Obstacle is the Way, Ego is the Enemy, Conspiracy | | |
| Non-Fiction | Brene Brown | Daring Greatly, Rising Strong, Braving the Wilderness | | |